Puffin conquers the 3 Welsh Peaks for Ty Hafan!
June 18th 2016 saw the Blas y Tir Team take on the Welsh 3 Peaks Challenge for Ty Hafan, climbing Snowdon, Cadair Idris and Pen y Fan in 15 hours, including driving! Megan from Puffin tells us all about it…
"The day started at 4:42am when we began the ascent of Snowdon whilst the sun was still rising. I think you can tell from the photo that we were all prepared but wary of what was ahead, it was a bit gloomy and spitting with rain so we were hoping to be up and down safely and quickly!
The views of Snowdon for the first half an hour were lovely, but as we climbed further up the mountain track the visibility got worse and worse! About an hour in we took our first of 2 pit-stops on the way up the Miners track, stopping for water and to catch our breath after a particularly gruelling bit of track. We were all still feeling quite energetic after a porridge breakfast and decided to push on further and further up the windy track towards to summit, passing other teams who had stopped for a bit to eat, a quick drink and a 2 minute rest. It was at this point we looked up to see even more of an incline with a definite need for more climbing than walking for the next hour, so the walking poles went away and the whole body workout began!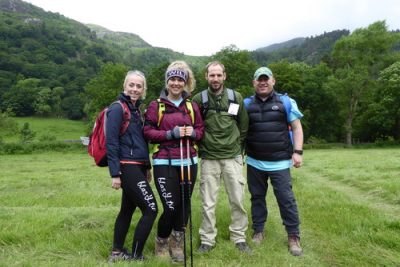 A quick cereal bar and an hour and a half later and we were approaching the summit, with the ground beginning to flatten out again we were able to break into a reasonable pace, trying to beat our target time of 2 and a half hours to the summit.
We did it! Snowdon Summit reached at approx 7:15am – now to make our way down the much easier Llanberis Pass to the much awaited bacon roll.
A 2 hour drive from Snowdon later and we were at the bottom of Cadair Idris ready to start climbing. I am sure the Blas y Tir trousers helped power us up the mountains!
Despite already having climbed Snowdon, I think the team looks quite fresh and energetic here. Needless to say in the 2 hours between leaving Snowdon and arriving at Cadair Idris we had not only had a bacon roll each, but also eaten lots of flapjack and trail mix to give us the energy to get up and go again. At this point we weren't particularly suffering with aches and pains and had managed to avoid any blisters, thankfully for all involved! Now was time to start mountain number 2 of the Ty Hafan Welsh 3 Peaks.
10:30am and the climb started off with a huge number of steps in a covered forest area, which seemed to go on forever until we reached a clearing. We continued to follow the path up Cadair Idris, which was relatively steep until about an hour and a half in to the 3 hour ascent, where the path flattened out but the ground loosened underfoot. As the day moved on the views got better.
The ascent to the summit was definitely the hardest part of the Cadair Idris climb. The ground was very loose and rocky underfoot and the uneven ground meant you had to concentrate hard on staying on your feet! A few stops for water, food and a flapjack each from Ty Hafan when we approached the summit gave us the energy to keep going – reaching the summit at around 1:30pm.
As you can tell from this picture as we began the decent, it was very rocky underfoot meaning the decent was a lot more difficult than the climb, despite going down-hill!
We did it! At the finish line at 3pm – 30 minutes ahead of our target time, well done team! Lots of sore feet and hungry climbers meant that 10 minute break was needed to take boots off and get ice packs out before heading off to our final destination, Pen Y Fan.
5pm and we were beginning to make our way up Pen y Fan. The easiest of the climbs by far, but a gruelling challenge after 2 mountains down! Feet wrapped up and ice packs a plenty used whilst in the van, it was all about team work and support as we made our way slowly to the top.
5:45pm and there we were making our decent of Pen y Fan, smiles all round as we were on the home stretch!
A gruelling day with 10 and a half hours of mountain climbing, 4 hours driving and copious amounts of flapjacks, trail mix and high-energy foods was over and the Welsh 3 Peaks was completed!
The Welsh 3 Peaks was such a fantastic challenge to be part of, and for such a worth cause. Thanks to all the support from sponsors and also those who helped us complete the challenge, a task that we all agreed we would do again!
Until the next challenge!
Megan, Blas y Tir.