OUR TEAM
Every day of the year the Puffin team work together to bring you the highest quality Welsh produce possible. From the factory, to dispatch, to the accounts department, we work hard to ensure the highest levels of quality, service and value to our customers… and we enjoy doing it!
MANAGING DIRECTOR
Huw Thomas
Returning to his Pembrokeshire farming heritage in 2009 after years of research and professional practice in related fields, Huw is responsible for ensuring that our loyal customers get the very best Welsh produce. Huw is both our Managing Director and responsible for our Sales and Marketing team. He continues to promote Welsh produce, whether through own-label or Puffin's premium Blas y Tir brand. He also ensures that our growers get a fair price for their produce, and that Puffin is "a good and happy place to work."
FINANCIAL DIRECTOR
Jon Langmead
Jon was just 21 when he qualified as an accountant and he hasn't slackened pace since, with experience ranging from Top 10 accountancy firms to local businesses. Jon joined Puffin early in 2012, working with Puffin's banks and auditors, helping to ensure profitability on current products and supporting Puffin's ambitious plans for growing the business.
SALES & MARKETING
Led by Managing Director Huw, our Sales & Marketing team work to build relationships with our widespread retail customers and loyal Welsh consumers, continuing to provide Wales with delicious Welsh produce all year round.
The team continue to promote the Blas y Tir brand throughout the year, developing fully integrated marketing campaigns to support our delicious Welsh produce.
TECHNICAL, SAFETY & ENVIRONMENT
Working together to ensure the quality of our produce, safety of our sites and reduce our environmental impact; the Technical, Safety and Environment team are a vital part of our Puffin Produce 100% service level to customers. Led by Penny, we have a large Quality and Technical team, dedicated Health and Safety team and a Sustainability Executive responsible for analysing and reducing our impact on the environment.
IT & PROJECTS
Led by Ewelina, our IT and Projects team support the state of the art technology and further development involved with delivering high volumes of potatoes and seasonal vegetables on a commercial scale.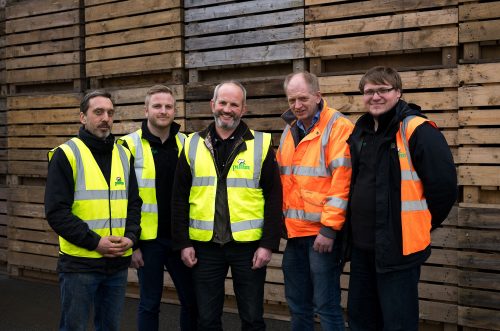 SUPPLY, FIELD SERVICES & VEG PRODUCTION
Working with our farmers; the Supply, Field Services and Vegetable Production team use the latest farming techniques to trial, develop and grow for Puffin. Using their knowledge they advise and support our farmers, ethically source our produce, and provide year-round supply for our customers. Our dedicated agronomist Steve heads up the Field Services team, Richard leads the Vegetable Production team and James is Head of Supply.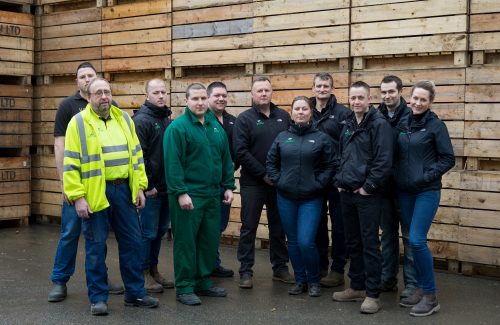 OPERATIONS
The Operations team is the largest team in Puffin Produce, and responsible for the day-to-day running of the factory, dispatch, engineers and all logistics involved with getting our potatoes from field to stores. The Operations team is led by Nick (pictured with senior team members), who also oversees facilities on site.
FINANCE & HR
Led by our Finance Director Jon, our Finance and Human Resources team support the people and administration needed to deliver quality Welsh potatoes and seasonal vegetables to our customers all year round.