Royal Welsh Show Success 2017
It was another successful year for Blas y Tir at the Royal Welsh Show this year, with an increasing number of retailers, visitors and customers popping by the stand in the food hall over the 4-day show.
This year over 20,000 samples of Pembrokeshire Earlies with Shirgar butter and mint were given out to consumers, and over 1,000 bags of Pembrokeshire Earlies sold to customers throughout the week. As well as plenty of customers to keep us busy, we also had a range of visitors, with BBC Radio Wales, BBC Wales and members of the National Assembly of Wales and the Minister for Agriculture all popping by to find out more about our produce.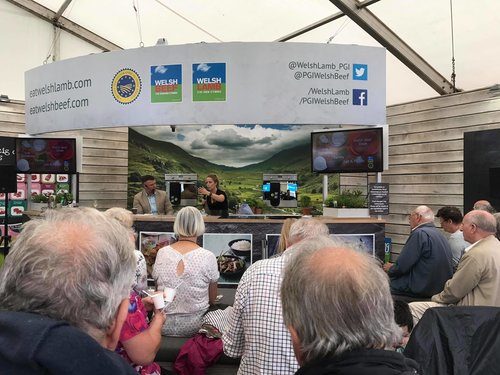 The Scarlets rugby team also popped by for a quick photo, as we renew our sponsorship for the 2017/18 season.
As well as our stand in the foodhall, we also provided sampling of Pembrokeshire Earlies, with Shirgar butter and mint, to the Co-operative on their stand at the centre of the showground. Megan from Blas y Tir also visited the Hybig Cig Cymru (HCC – Meat Promotion Wales) stand to talk about Pembrokeshire Earlies and their Protected Geographic Indicator (PGI) with other quality Welsh food producers and the public.
It's always a busy week at the show, but also always very rewarding for the business, and we look forward to attending many more Royal Welsh Show's in the future.